FALL
WINTER
COLLECTION
2022
New Collection
Fall | Winter 2022
The Honeycomb represents Union, group collaboration, harmony, balance, generosity and warmth, respecting the nature colours.
Ana Hickmann Eyewear brings for this winter a collection made of natural colours, from gold, honey colour to brown, blue and pink, with a design that balances between the classics and the extraordinary, where we can see from large trendy acetates with the Iconic DuoFashion to a capsule-collection created only with Titanium Components.
Ana Hickmann Eyewear introduces this season 48 new styles between sun and optical, each one with 4 to 5 different colours so there's plenty to offer to everyone.
CLASSICS
AH1469 & AH 1470
Metal model with a metallic thread adorning the front of the eyepiece in a cat-eye shape and more rectangular shape with a temple decorated with a delicate crystal, followed by the AH brand logo. The entire frame is colored with tone on tone. Available in 4 different colors.
Mini Collection Fall | Winter 2022
Ana Hickmann Eyewear brings out the Tropical theme on its Duofashion temple.
The iconic Ana Hickmann Eyewear temple presents the tropical theme on one side and a opaque colour on the other, with a brilliant combination with the frame colors.
There is also a dyscreet crystal in the hinge creating an exciting surprise. Marbled Brown or blue are just a hint of what Ana Hickmann Eyewear has prepared for us this winter to contrast with the usual dark colours of the season.
Temple inlay in different colours and patterns featuring on the hinge a discreet crystal that conveys this piece an exquisite look.
Each frame provides two different looks, on one side a pattern inlay and on the other a classic block colour to change the look.
These styles, in metal and acetate, square and geometric shape, feature a totally innovative and elegant rotational hinge system adorned with a small crystal. With the particularity of presenting proposals for lenses with 3 different shades of horizontal gradients, which gives the piece a touch of extreme elegance.
LOVE
CELEBRATION
Fall | Winter 2022
Ana Hickmann Eyewear launches the LOVE CELEBRATION Capsule-collection. With the hinge in a shape of an L, the brand intends to demonstrate and remember that we spend and spread love in every moment of our life. It presents 3 very romantic models, in metal and acetate, designed for dreamers, oversized, with the particularity of the lenses having a system of three levels of gradient that gives an even more dramatic look to the pieces.
AH 9349
NEW FLEXIBLE HINGE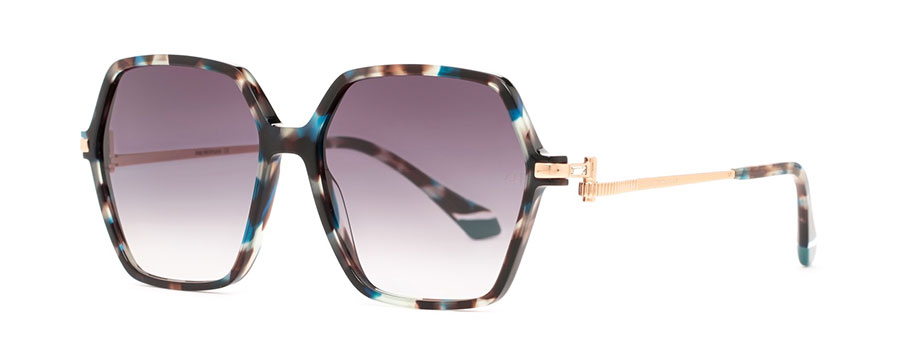 Titanium Collection
Fall | Winter 2022
Ana Hickmann Eyewear presents a new Titanium Capsule Collection. This material is highly appreciated by consumers due to its qualities, like for instance: LIGHTNESS, Titanium is as strong as steel but 40% lighter.
RESISTANCE, Titanium is twice as resistant as aluminum and as a memory alloy, it will always return to its original form. BIOCOMPATIBILITY, Titanium is non-toxic and hypoallergenic, resistant to corrosion and non-reactive, making it the most biocompatible among the metals.