Diverse and joyful, the new Hickmann Eyewear collection proposes bold, unique concepts with a powerful sense of style. Designed for a self-confident woman with a passion for fashion trends, each frame is an expression of quality and design excellence, with a material mix that is supremely contemporary and an attention to detail that adheres to key trends.
Exploring new avenues for combining decorative elements in metal and fine acetate, Hickmann introduces a new triangular-shaped detail, featured on both the acetate and futuristic open work temples of several new styles.
Bold, slim metal eyewear offers a further trend-setting feature in the collection, redefining the 70s statement styles into exciting, fashion-forward looks.
The Hickmann eyewear collection proposes 39 ophthalmic styles and 24 sunglasses.
The HI3188 sunglass style is part of a new group of styles at Hickmann showcasing a trendy metal concept. The large geometric proportions of the front of the design are complemented by bold temples with a 70s influence. Colours include Black, Gold or Dark Green.
Model HI9217 is a feline cat's eye shape, with an acetate front that has a geometric, sculpted look. This spectacular silhouette is combined with open metal temples which hold a new decorative triangle-shaped acetate detail to match the front. Colours offered include Black, White, Tortoise and Aqua.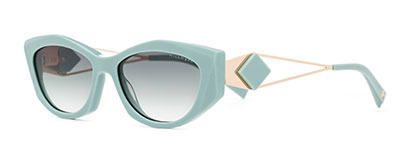 Part of Hickmann's titanium collection, the HI1219T is a timeless round shape with narrow gold noise bridge. The sleek styling of the frame has a glamorous and feminine look on the face. The frame comes in Gold/Black, Green/Silver and Gold.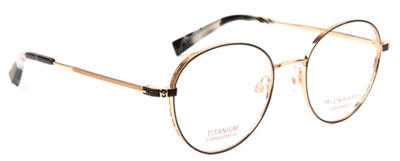 The model HI1224 is characterised by an oversized geometric shape that fans of statement eyewear will love! The stainless steel front is combined with the futuristic open temples which feature the new decorative triangle-shaped acetate detail. The frame comes in Black, light Pink or dark Green.
A glossy sculpted finish is an eye-catching characteristic of model HI6294. The frame has a rectangular eye shape which has a gentle lift on either side. Colours include a glossy Black, Havana, dark Red or Green.